After It's Raining Cats and Dogs, the Escargots Ailés have added the bat to their bestiary. The small animal and the acrobat both have in common the mastery of the air. This relation inspired an aerial string choreography which leaves the imagination the pleasure to display.
Between three crossbars of stretched cloth, some sort of membranous wings, two creatures fly, crawl, coil up and hang. Day and night. The show tacks between dogs and wolves, takes place on the familiar soundscape of the bat.
A delicate hymn to differences in which the professional of the circus arts and the bat, the two flying mammals, find themselves in a celebrated oddity: that of hybridity.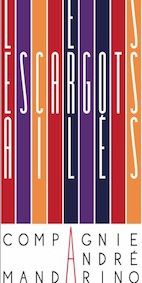 COMPANY Les Escargots Ailés
Founded in 2000 by Andre Mandarino, a brazilian artist, the Company "Les escargots ailés" (The flying snails) developed a practice of circus arts, combining aerial circus, dance forms, music and theatre. Andre Mandarino was trained at the National Circus School of Rio de Janeiro (Brazil) and at the National Theatre of Circus Art in Chalons-en-Champagne (France), which represent two very different movements in the circus world. He specializes in aerial acrobatics. His creations are inspired by the confrontation and encounter between those two art forms.
« Suspended » between the two cultures, his research is based on a subtle blend of genres, between fluidity of movement, poetry and technical performance.
Right from the beginning, Les Escargots Ailés offers motley and eccentric propositions which place them decidedly in the contemporary circus.
In 2012 the performance for children « It's raining cats and dogs » was a milestone for the company. Confirmed by the interest that this proposal still meets with audiences today, it deepens and confirms that the creative process leans towards a choreographic circus for children.
"BAT"
The news show - october 2014
The bat, just like the circus aerial acrobat, moves through the air with ease. It connects heaven to earth, often hanging upside down, it defies the laws of gravity. This acrobat of the night sees the world upside down and reveals to us the backstage.
The show depicts the relationship between these two flying beings. It is inspired by the lifestyle of this elusive animal and reveals a fantasy world . In this duo of aerial acrobats , beyond their primary discipline, rope and straps, their aerial agility allow them to reinvent an interpretation of the animal by man. Based on a choreographic circus writing, the dialogue between the bodies unfolds, the stage set allows them to express themselves upside down as much as right side up. Its organic manifestation appears and changes forms according to the light, the shadows and the projected images.
A nocturnal baby bat, meets another bat that lives during the day. This difference brings them together. An unexpected event will force a hasty departure. Together they face many dangers and share adventures that will push them, beyond their differences, to live together.
The music, an original composition, is rich in details and auditory images. In constant dialogue with the body, it takes us on a journey between what we see and what we hear .
CAST
Performers : Solange LIMA and Jerome GALAN

Director : Andre MANDARINO

Choreographer : Sibille PLANQUES

Stage designer : Sophia BOUDOU

Musical creation : Christine MOREAU ZEF

Lighting designer: Elie ROMERO

Video creation : Elise BOUAL

Costume designer : Florinda DONGA

Stage manager : Paul GALERON

Administration Officer : Anne DELEPINE

Head of production : Alice COLLIN

Photography : Isabelle BRUYERE

Production : Company Les Escargots Ailés
COPRODUCTION in France
CIRCa, Auch, Gers, Midi-Pyrénées, Pôle National des Arts du cirque, Association Nova Villa - Méli Môme in Reims, Le Manège – National Theatre of Reims.
SUPPORT in RESIDENCY in France
CIRCa, Auch, Gers, Midi-Pyrénées, Pôle National des Arts du cirque, MJC Intercommunale d'Ay / Salle Sabine Sani, La Filature in Bazancourt, Le Manège - National Theatre of Reims.
The company Les Escargot Ailés receive fundings from the Region Champagne-Ardenne/ORCCA and the City of Châlons-en-Champagne.
The project is supported par the Ministry of Culture/D.G.C.A, the Regional Direction of Cultural Affairs of Champagne-Ardenne as an 'Aide à la création', the General Council of the Marne and the City of Chalons-en-Champagne.
" IT'S RAINING CATS AND DOGS " (english in the text) -
Show created in March 2012 to Méli'Môme festival, in Reims.
"It's pouring ... A child alone in a room, with only one toy : a pile of multicoloured fabrics strewn on the floor creating an abstract form. From this material, he will create an imaginary and ephemeral world whose characters, situations and things will infinitely transform.
The English term'' It's raining cats and dogs'' is our French-speaking'' il pleut des cordes'' This is an example of cultural context, a metaphor.
These colourfull fabrics are made from spinnakers, very light and hollow headsail that are hoisted when sailing downwind. This synthetic fabric is traditionally reserved for the design of boat sails and kites.
Theme addressed : boredom ...
Allowing children to do nothing, to get bored, stimulates their creativity, encouraging them to listen to their inner world and their desires. Boredom is even a learning experience, essential to their stability and psychological construction. "The lack of activity stimulates their desire and independence of thought, encouraging to show initiative and not just wait any more for adults," says Roger Teboul, a child psychiatrist.
TECHNICAL CONDITIONS :
(Technical information for indoor and outdoor performances available on demand)
The show is for children 4 years and over
Lasts 40 minutes including audience arrival
Team on tour: 3 people
Description of setting and accessories provided by the company: Apparatus circus gantry, 1 aluminum tripod, aerial spinnaker.
Setting : 1 wooden chest, a white and circular dance floor and lights.
Unloading and assembly: 3 hours
Dismantling and loading: about 1 and half hour
Space required (including spectators) :
10 by 10 meter circle / 33 feet in circumference
Required minimum height under ceiling: 5m10 / 16.8 feet
Maximum spectator capacity : 80 to 100 people. The company will provide 60 cushions for children.
Requirement imperatives : 1 technician, 2 electrical sockets and chairs for the audience.
CAST :
Conception and performance: André Mandarino

Directed by: Sibille Planques and André Mandarino

Creating Musical: Christine Moreau Zef

Lighting: Elie Romero

Thecnicians : Marine Molard and Elie Romero

Administration : Anne Delépine

Photo credits: Isabelle Bruyère

Creating visual and graphic : Le Studio Elhem
Région Champagne Ardenne – ORCCA.
 Conseil Général de la Marne et la ville de Châlons en Champagne. Association Nova Villa (Festival Méli'Môme) et la MJC d'Ay.
 Thanks to collèges Notre Dame-Perrier à Châlons en Champagne et Raymond Sirot à Gueux.
PRESS REVIEWS:
"André Mandarino an artist coming from the circus and aerial dancer, transports audiences of all ages, on a gentle journey that gives them wings." Ouest-France / Tuesday, April 3, 2012
"…laughter also for young children embedded in a poetic show of the company Les escargots ailés." The Union Champagne Ardenne / Thursday, April 5, 2012
"Watching this little boy who plays on the ground or in the air with large pieces of colorful fabric, children laughed and allowed themselves to float into space. Adults were amazed. " Ouest-France / Sunday, November 4
"André Mandarino managed to win over young and old in his colourful world ." Ouest-France / Sunday, November 4